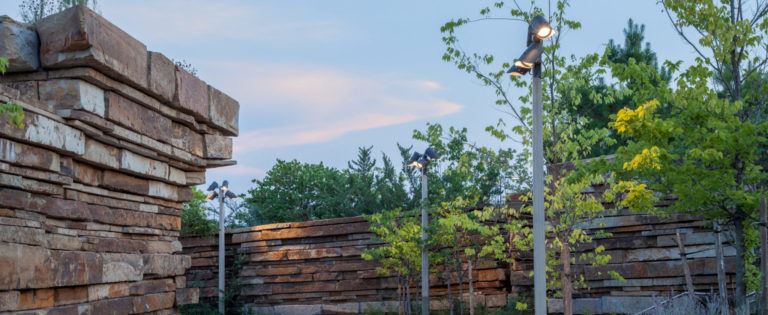 Going Green, Planting Trees: Structura Intends to Plant the Planet
Going Green, Planting Trees: Structura Intends to Plant the Planet
April 1, 2020
Kicking off April 1, 2020 (no fooling!), Structura is launching its Green Planet Initiative to plant a tree for every wood pole they sell. Structura is known broadly across the industry for their striking and unusual wood light poles.
The Johnson County, KS manufacturer of lighting, outdoor furnishings and site amenities is expanding, moving its Olathe headquarters to Lenexa. At the same time, they are kicking off their most ambitious philanthropic endeavor yet, the so-called Green Planet Initiative. "At Structura, we've long understood the importance of giving back and are involved with several local organizations. With the Green Planet Initiative, we wanted to take our support to the next level – and expand it across the country," said Shannon Yust, National Sales Manager at Structura.
The Green Planet Initiative focuses on reducing our carbon footprint and partnering with the National Forest Foundation. The organization, whose mission it is to restore national forests and grasslands, seemed a natural fit for Structura's mutual interest in planting trees nationwide. "With a large percentage of our business focused on outdoor wood products, we're thrilled to partner with the National Forest Foundation. We all know the national forests play an important role in our country, and it's imperative to keep them healthy," said Yust.
Going forward, for each wood pole Structura sells, a tree will be donated to and planted by the National Forest Foundation. In the Kansas City area, the Structura team is partnering with city officials in their new hometown of Lenexa, KS to host a tree-planting event, scheduled for later this spring. "While we sure want to make a country-wide impact, we want to be good local stewards, as well," said Yust. "Our employees are eager to get out, get dirty, dig holes and fill up a Lenexa park with trees they can see on their lunch hours!"
During the month of April – for the kickoff of the Green Planet Initiative – visitors to the company's website will notice an altered logo: a green accent where Structura's signature orange color usually appears. The Green Planet Initiative will also be noted in company correspondence, on social media, via email and on packaging, as wood poles leave the factory.
"We're excited to do our part to truly help the planet," said Yust. "One tree at a time." For more information, please
Back to Top