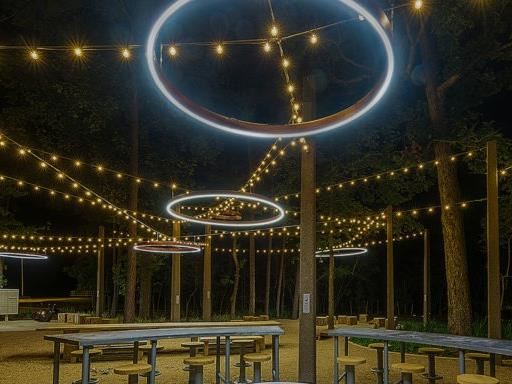 Keeping the Fun Going After Dark in Texas with Structura's Aura
Keeping the Fun Going After Dark in Texas with Structura's Aura
January 4, 2019
Deep in the (southeast) heart of Texas…you'll find one of Houston's most innovative master-planned communities: Woodforest, developed by Johnson Development Corporation (JDC). And deep in the heart of Woodforest, you'll find Kingsley Park.
Developed "on the edge of the Woodforest's village center/commercial district, Kingsley's tighter lot density, front porches and sidewalks give it a more traditional feel than other neighborhoods in Woodforest, like that of an older neighborhood in the city," says Jonathan McMillian, ASLA, President of LANDology and a Landscape Architect to boot.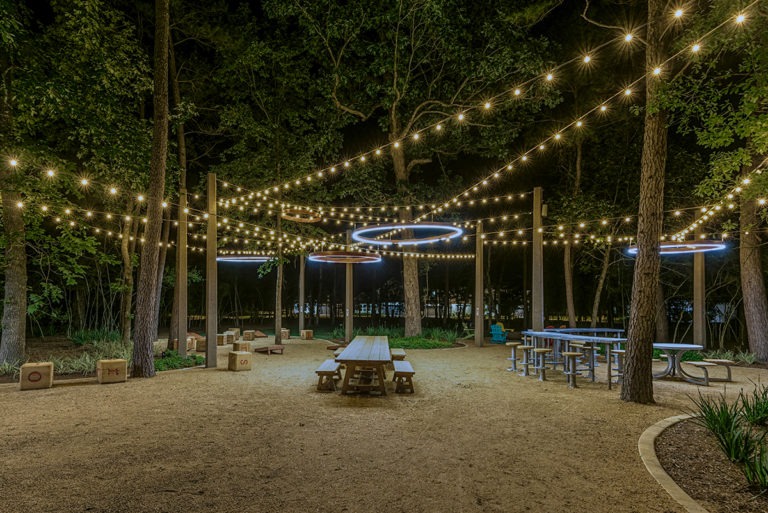 That's why, when McMillian and his team were retained by the JDC to help create an outdoor gathering place/park with a tight sense of community for the Kingsley Park residents, he knew just what he was after. "We wanted to provide for various sized groups of people to feel comfortable in the space simultaneously. Flanking all sides of a long central harvest table are separate sub-spaces for an outdoor kitchen, tall tables with bar stools, and a fire pit with Adirondack chairs," says McMillian. Other featured spaces include the community's mailboxes and a bean bag toss area adjacent to a central multi-use open lawn.
From the beginning, McMillian noted, his team sensed the importance of extending the daytime usage of this fun, relaxed park space to take advantage of the cooler, Texas evening hours. And what do you need to accomplish that? Fun, relaxed lighting to go along with your space.
And who does fun, relaxed – yet elegant outdoor lighting better than anyone? Enter: Structura from Kansas City.
And when you visit Kingsley Park after the sun goes down, be prepared to chill. The lighting creates an open ceiling to provide, as McMillian describes, a degree of psychological comfort to visitors. He says Structura's Aura wood pendant luminaires were the perfect fit for Kingsley Park for a number of reasons:
They offer even light distribution with a clean, contemporary look.
They withstand outdoor, wet environments.
Despite their upscale appearance, these circular wooden Auras are "quite comfortable and surprisingly fun in this forest environment."
LANDology specified six Aura luminaires in three sizes, then suspended them among strings of bistro lights as featured elements marking key use areas. A composition of three Auras together mark the center of the space above the custom harvest table.
The LANDology team has earned a reputation for unique and interesting community development and park design, that sometimes leads them to projects – like Kingsley Park – with atypical programs or site conditions, which they embrace. Lucky for them, Structura, with their integrated team of engineers, designers and big thinkers – is also used to working on projects that require outside the box thinking. "The trend in outdoor lighting is toward using unique, natural elements in interesting ways," said Derek Seitz, Chief Executive Officer at Structura. "We're good at that – and we make everything right here in Kansas City, so our process is very turnkey once we're engaged in a project."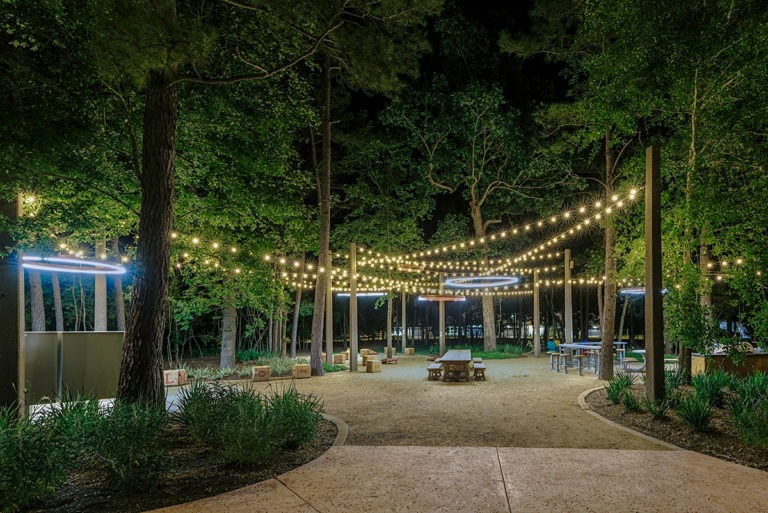 The six Aura luminaires at Kingsley Park are made from Accoya™, one of the world's most durable exterior products – and they're backed with an industry-leading 25-year warranty. As with all of Structura's American made, sustainable products, the Aura is designed to be a scenic and yet unobtrusive addition to the Kingsley Park project.
Enthusiasm for the urban-inspired Kingsley Park continues to grow, and McMillian says it has quickly become a favorite among local residents. And, as testament to how much the folks at LANDology enjoyed working on the cozy outdoor-feels-indoor living space: the team is "planning an office picnic there soon so everyone will have the opportunity to experience the park as it transitions from daylight to night light."
Back to Top